Facts, News, Gossip, Rumor & Innuendo
What is written here, is derived from countless interviews I've read, various magazine articles throughout the years, and heavily from Jenkin's biography, "The Fire Within". The pictures are derived from hours of searching online, and scanning from various magazines.
IT ALL BEGAN ON.......................................
April-29-1957 - Daniel Michael Blake Day-Lewis is born to Cecil and Jill (Balcon) Day-Lewis. He came into the world in the front room of his parents house at 96 Campden Hill Road, Kensington.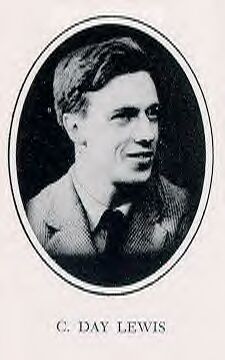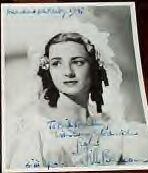 May 1957 - Daniel was christened a few weeks after his birth, at the church of St Martin-in-the-Fields, in Trafalgar Square.

12/31/1957 - The Day-Lewis' move, with their new son, Daniel, and daughter Lydia Tamasin into their refurbished home at 6 Croom's Hill, Greenwich.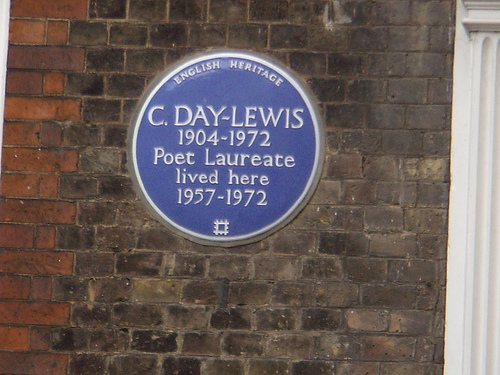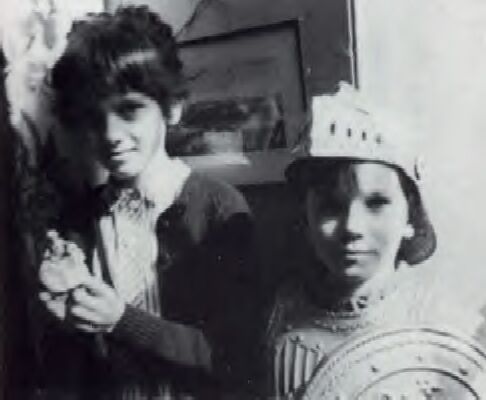 Daniel's first schools were Invicta, and Sherington, a boys school. But, having become a dicipline problem at home, his parents decided to send him off to Sevenoaks School in September of 1968. Daniel almost immediately hated life at Sevenoaks, but this is where he would first be introduced to acting. The experience was minimal, but gave Daniel a strong impresssion, and has said what he loved most about it, was the escape into another world.

But soon, he did physically escape into another world, by joining his sister Tamasin at the more progessive Bedales. He was offically enrolled there in the autumn of 1970.

During the summer of 1970, Daniel at age 12, made his first appearance on the big screen. He was among a group of boys, playing street thugs, and scratching cars in the film "Sunday, Bloody, Sunday". He was paid £5 for his days work.

During his stay at Bedales, Daniel also took to the stage. The only time that his famous father, Cecil, England's Poet Laurette, would see him perform. It was in the play, Shakespear's "A Winter's Tale" as Florizel.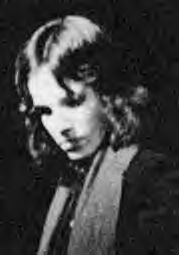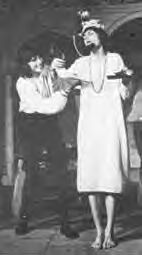 5/21/1972 - Cecil Day-Lewis died after a long illness. Daniel had just arrived at the house, from Bedales. Holding his father's right hand, the then 15-year old, watches as Cecil passes on. This will have a profound effect on Daniel for the remainder of his life.
Daniel finds solace, after his father's death, not from the stage productions at Bedales, which he continued to act in, but from the woodshop. A love that remained for many years after leaving Bedales.
Sometime in 1973, Daniel had been prescribed migraine medication. He started to find taking them fun, and gradually increased the dosage to an almost lethal level. He became hallucinatroy, was misdiagnosed as a heroin addict, and locked in isolation. This rumor became a source of innuendo later, when he became well known as an actor.
Summer 1974, Daniel inspired his own fan club at Bedales. But, not for acting. It was his exploits as a footballer, where he drew a devoted female following, and was dubbed as "Dan Day-Pinup"! He was the star attraction. No surprise to his fans of today.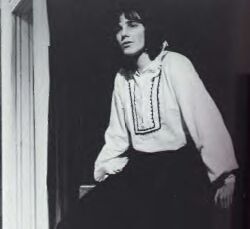 During his time at Bedales, Dan met and formed a relationship with a girl in the same year class as he. Her name was Sarah Campbell, and she and Dan would be a part of each other's lives for more than a decade. Sarah was his first serious relationship.
In the summer of 1976, after being out of school for six months, Daniel applied to John Makepeace, to apprentice in his workshop, in the hopes for a career as a cabinet-maker. This would have been a five year apprenticeship, but since Daniel hadn't done anything since leaving Bedales in the way of cabinet-making, he was turned away. This was to be a gain for acting.
Daniel next attended the Old Bristol Vic Theater School from 1977 to 1980. His relationship with Sarah Campbell had survived the separation of Bristol, and Sarah's years in University. Daniel during the next five years, shared an apartment with a friend of Sarah's, then eventually an apartment with Sarah herself. But, the relationship was eventually to end in 1987, when Dan's career began taking him further distances. I have no picture of Sarah as she was when involved with Dan, but below is a picture from their 25th Reunion at Bedales, last year, June, 2000: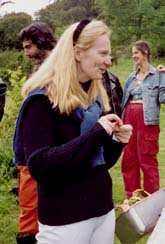 Fame Finds Daniel Day-Lewis
In the years of 1981-83, Daniel worked in theater at the Old Bristol Vic Company. Around this time he did a few BBC productions, which included "My Brother Jonathan", and "How Many Miles To Babylon".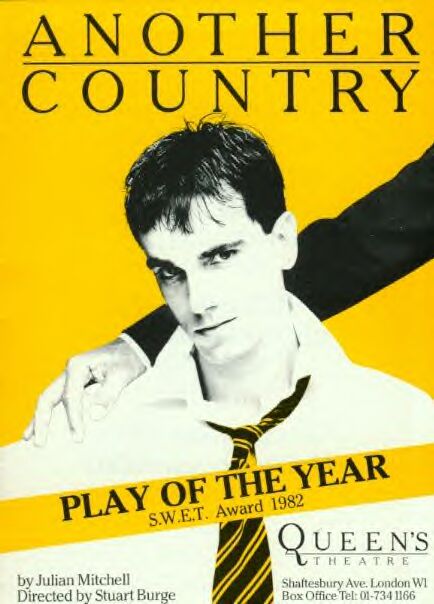 Another Country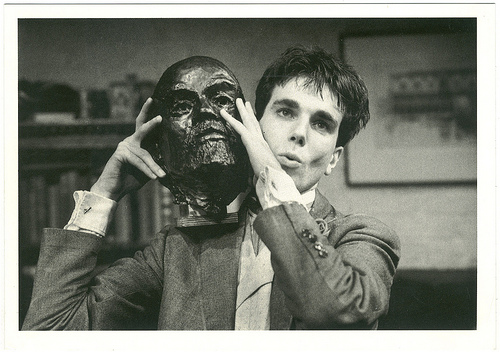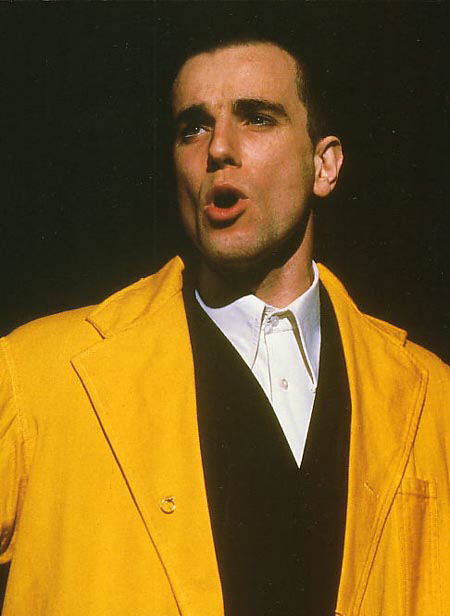 Look Back In Anger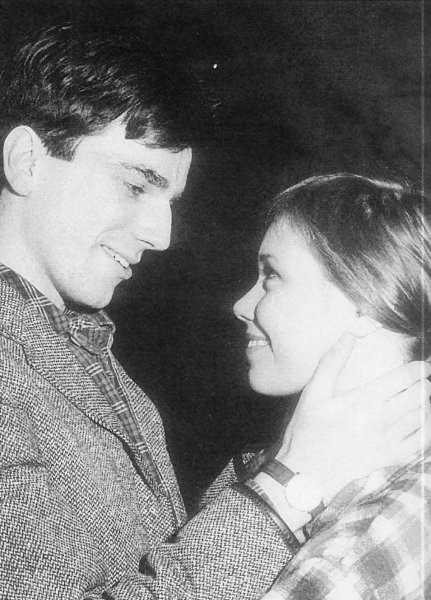 The Futuristics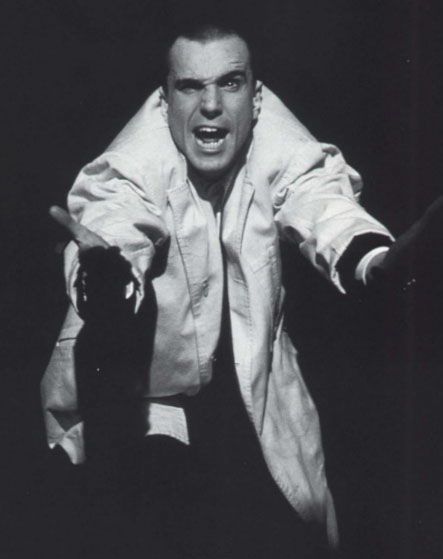 The same year as he did the BBC "HMMTB", 1981, he also went on location for his small role in Richard Attenborough's "Ghandi". Where for the second time on the big screen he played a thug.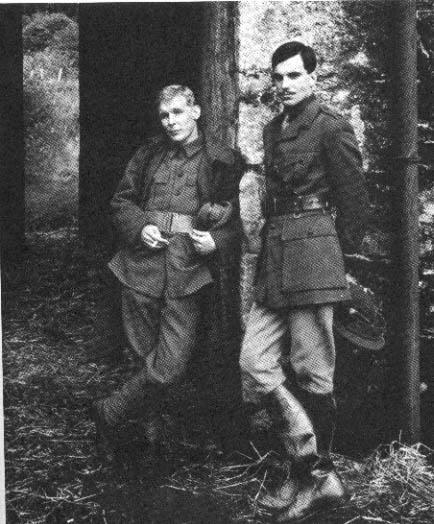 In 1983, Daniel had a small role, which was a little larger than any before, in a major motion picture, "The Bounty", playing the staid John Fryer. The movie wasn't a huge success, and Daniel garnished an unfavorable review from the New Yorker's Pauline Kael. She said of his performance: "as the skinny-faced John Fryer....Daniel Day-Lewis sticks out; he seemed like a bad actor". Words to be eaten in the not too distant future.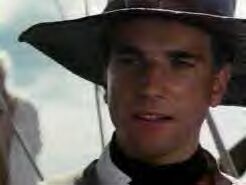 In the Fall of 1983, upon returning from location for "The Bounty", Daniel joined the Royal Shakespeare Company. This would not be a marriage made in heaven. Daniel and the RSC had a mutual falling out. The theaters loss would be filmdoms gain.

1985 was a pivotal year in the career of Daniel Day-Lewis. He was to make the two movies that would bring him to the attention of film critics, and the public alike. First making "My Beautiful Launderette", starting in February 1985, then "A Room With A View" in June 1985. Both films would premiere on the same day in NYC. With two such divergent roles, it is understandable that the critics stood up and took notice. Daniel was begining his film personna as "The Chameleon". And, also as the "thinking woman's sex symbol." Although he played a gay man in "Launderette", he exuded such sex appeal on the screen, that women couldn't help but notice, and be intrigued. His next film "The Unbearable Lightness Of Being", would seal his sex symbol image.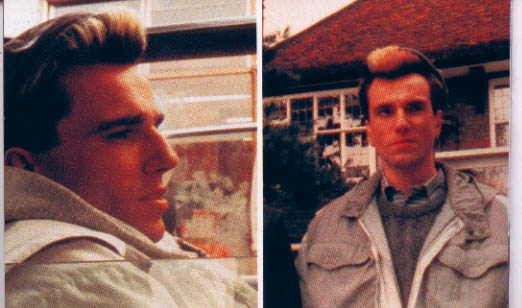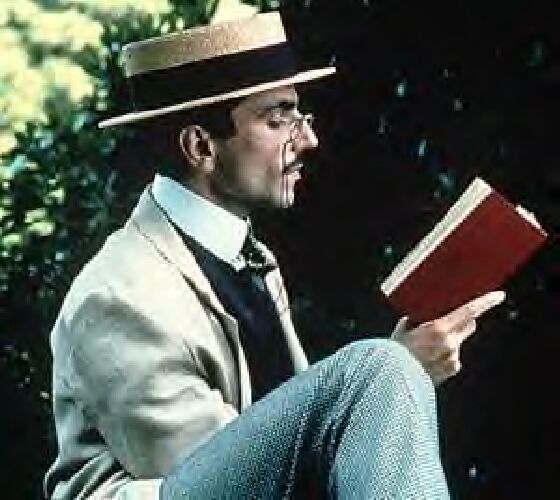 But, before sealing that image, Daniel made the BBC film, "The Insurance Man", another role, so divergent in looks and demeanor, that finding the sex appeal as Dr. Kafka vs Tomas, would be near on impossible.

In 1987, Daniel made, what today is my personal favorite Day-Lewis film, "The Unbearable Lightness Of Being." He plays Tomas, a womanizing neurosurgeon, with the greatest byline of all time, "Take off your clothes." Woman around the world would have gladly done so for the actor uttering those words. It was the most strenuous film for Daniel up to that point, with a shooting schedule of eight months. I would also assume that this was the time his decade long relationship with Sarah Campbell actually ended. Daniel had been going on locations farther away, and this would have been the lengthiest separation had the relationship continued. It was too much to expect. This also brought on his first rumor of an affair with one of his leading ladies.......Juiliette Binoche. To this very day, neither speak of each other, except in terms of professional good-will. Both are very strict about keeping their private lives out of their interviews.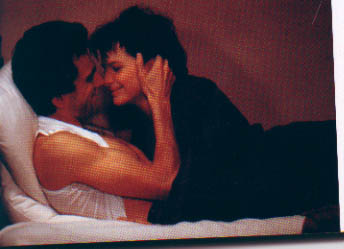 After the filming of ULOB concluded, wanting nothing more than to relax for awhile, Daniel found himself contractually bound to filming the forgettable "Stars and Bars" in the United States.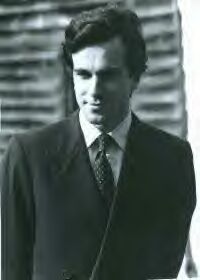 Also in 1987, Daniel bought his first home. It was in Brook Green, Kensington. He had made arrangements to purchase the home prior to shooting ULOB, and during his time away, it became his. After returning from the States, he went there to decompress from the strain of filming four movies, basically back to back, and with thoughts already looming in his mind whether he wanted to remain in acting. It was during this time of doubt, and rest, that one evening, a thud on the floor, as the script of "My Left Foot", entered his home. And a new partnership, and friendship would form, with director/writer/producer, James Sheridan.

Toward the end of 1987, Daniel applies for an Irish passport, and is given one. This will, unknowingly, become the first act of a more definitive Irish move.

July 18, 1988 - filming begins on "My Left Foot." Daniel's transformation into Christy Brown had an overwhelming effect on cast and crew. The transformation was so complete, that Daniel refused to walk, and insisted on remaining in "his" wheelchair. He looks back upon the filming, and admits that he was "somewhat of a pain." His dedication to character, found him learning how to paint with his left foot, and several of the paintings in the film, were actually his creations. His total transformation became a frustration, as much as it was a thrill to watch. Crew members cursed him as they were forced to carry him over cables and other obstacles. This is around the time that Dan's embarrasment over his preparations became an obstacle for interviews as well.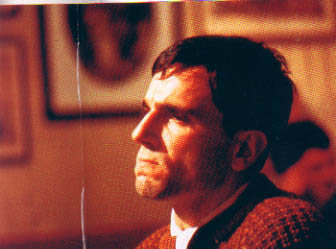 During his preparation for Christy, Daniel rented a home near Sandymount School And Clinic in Dublin. It is Ireland's leading center for the treatment of the disabled. Mostly done through observation, Daniel learned what he would have to do to transform himself into a character of disability. He would remain a benefactor of the school, and visit there even when filming was complete.

With filming on "My Left Foot" complete, and mixed reviews for the finally released "Stars And Bars, Daniel headed for Buenos Aires and Patagonia at the end of 1987, to film another less than distinctive movie, "Eversmile New Jersey." Here he plays a travelling dentist, via of motorcycle with side-car, no less. Personally, I find this film to be a quirky little number, that I enjoy watching from time to time.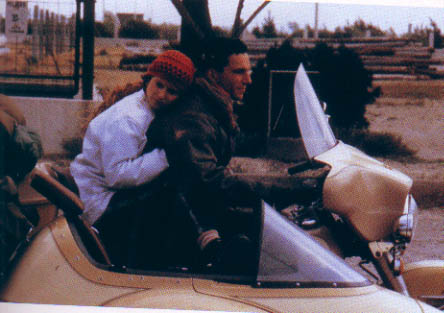 March 16, 1989, Daniel hits the stage at the National Theater in "Hamlet". Poor reviews devastate him. He takes a three week hiatus from the production, to help promote MLF. On his return to the production, cast and crew were hoping for better things to come. But, on September 5, just three quarters of an hour into the play, Daniel exited the stage behind "the ghost of Hamlet's father", when he should have been reciting one of Hamlet's impassioned solioquies. Off-stage, Daniel had slumped to the floor, sobbing "I can't do it, I can't do it, I'm not going back on." So began one of Dan's first periods of "gossip and innuendo." Did he actually see the ghost of his father, or was it exhaustion that drove him off-stage? The tabloids were having a field day.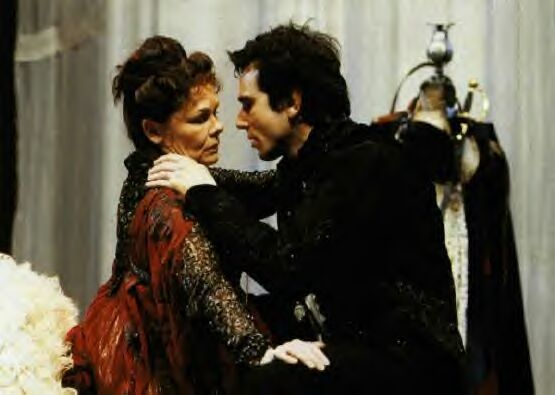 In the summer of 1989, Daniel met and instantly fell for the beautiful French actress, Isabelle Adjani. This would be the begining of a six year, on and off, turbulent relationship. Isabelle, like Daniel, was well known for preserving her privacy. Rumor and innuendo would dog these two private individuals over the course of their relationship.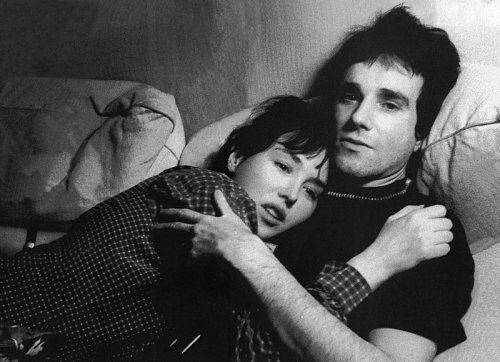 During the time of Dan's recuperating from the Hamlet play, he becomes even closer to his sister, Tamasin. They had always been close, but she would become, and still remains his cloest friend and confidant, as well as his sister.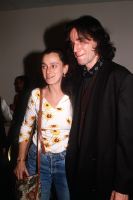 March 1990, Daniel wins a well deserved Best Actor Oscar for his performance in "My Left Foot." Also receiving an Oscar as Best Supporting Actress is, Brenda Fricker as Christy's mother. Unfortunately, Jim Sheridan was unable to retrieve the trophy for Best Director, or Best Picture, which the film had been nominated for.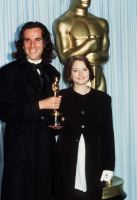 Dan returns to Sandymount School to show the children and staff the Oscar he feels they helped him to win. Dan has remained quitely in contact with the school and clinic, doing what he can to be of help.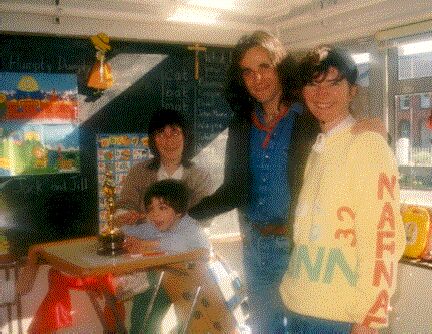 In July 1990, still involved with Isabelle Adjani, Daniel is seen visiting Madonna at her London hotel, and tabloids print stories of their "close friendship." The Madonna story, says, Daniel's half-brother, Sean, "is one of my favorites. I'm sure it would have been fun seeing her introduced to Jill Balcon." (excerpt from Jenkin's "The Fire Within")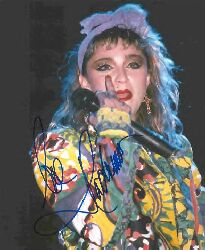 Early in 1991, Dan becomes an Associate Producer for the film, "Orlando". He was relieved to help make a movie from behind the camera. The film was released in 1992, to worldwide acclaim, but Daniel's name does not appear along with the other five associate producers who are listed.

In the winter of 1990, Daniel is coveted by Michael Mann to star in his remake of "Last Of The Mohicans". This is the type of film that Daniel had sworn to himself that he would never make, a "big budget", commercial type vehicle. But, he found himself intrigued with the character, and met with Michael Mann, whereupon they formed a mutual respect for one another. Daniel was physically not up to buff to play the athletic frontiersman, Hawkeye, and was placed on an exercise and diet regimen to alter his fit, but not muscular frame. Daniel admitted to often eating only one meal a day. The fitness trainer, Richard Smedly designed a program, combining weight-training, running and sparring. He also placed Daniel on a strict diet. He had to eat five times a day, good, wholesome, well-balanced meals, like pasta with plenty of vegetables, lots of fresh fruit, and a high caloried drink every day. The daily target was 5000 calories. This was to place twenty pounds of muscle on Day-Lewis' lean frame. By the time filming rolled around in July 1991, Daniel was the epitomy of Mann's vision of the "hunky frontiersman". Millions of woman around the world would become infatuated. Was it possible that this virile specimen, romping around in sexy buckskins and loincloth, was also Christy Brown and Cecil Vyse?!!!!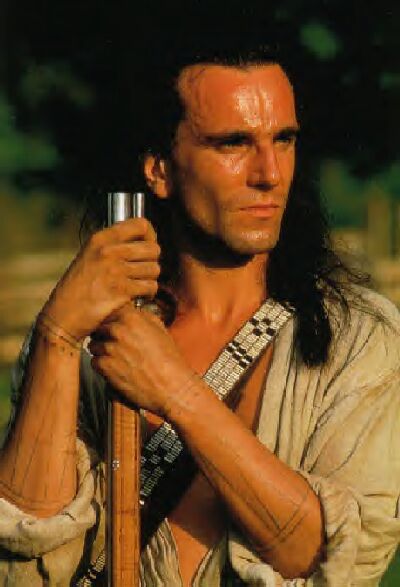 Shortly before filming of LOTM began, Martin Scorcese, who Daniel had always wanted to work with, met with Daniel in Los Angeles, then again in London, to talk over the possibility of starring in "The Age Of Innocence." So it was, that Daniel was signed on to do consecutive films before getting to rest. There wasn't much time inbetween to shed Hawkeye's skin, and transform into Newland Archer's. He ended filming for LOTM in October of 1991, and was to begin filming AOI in February of 1992. He headed for New York to make some preliminary preparations for AOI, before returning to London for the New Year.

Inspite of what is written in the Jenkin's biography, that Isabelle Adjani and Daniel were separated during his months of filming LOTM, that is not quite true. She did visit him for a number of weeks while on location in North Carolina. She was still an important figure in his life. On his return to Europe, Isabelle moved from France, to his home in Brook Green. But rumors were flying regarding her motives for the move, some saying it was to keep an eye on her roaming boyfriend. At this time there had been stories being printed in the tabloids of Daniel's affair with Sinead O'Connor, the Irish singer. They had been spotted together at several parties in Dublin, and rumor had it that O'Connor was head over heels in love with Daniel. There were also rumors of other liasons as well, and it appeared that Adjani had reason for concern.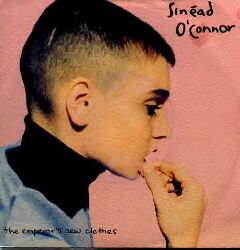 Filming of The Age Of Innocence ran throughout the Spring of 1992, ending in June. Gone was the athletic physique of Hawkeye, and in it's place, the handsome wiriness of Newland Archer, which more resembled Daniel's own. Dan's two leading ladies in the film, were Winona Ryder, and Michelle Pheiffer. Each had a different point of view on the charms of Daniel Day-Lewis. Rumor had it that a brief affair sprung up between Daniel, and the much younger Winona Ryder. Winona makes no secret of her deep respect, and fondness for Daniel, who she calls "my perfect leading man." Michelle Pheiffer, on the other hand, made it known that her love scenes with Daniel were most difficult, as she couldn't tolerate the smell of tobacco on his breath.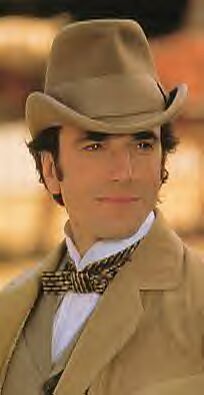 During the filming of Age Of Innocence, Daniel's American agent, Gene Parseghian, had informed his client of a few offers he might consider. The first being "Philadelphia", which was percieved as Hollywoods first mainstream film on AIDS. The second one for consideration was Shakespear In Love, to star Julia Roberts. Julia had the clout to have in her contract approval of her leading man. She wanted Daniel Day-Lewis. Stories were cropping in the trades that Day-Lewis was on board to play the Bard, but unfortunately it was premature. Daniel turned down both projects in favor of working once again with Jim Sheridan on "In The Name Of The Father." However, rumor once again hit the media, in September, that Julia was offered a fortune to do Shakespear In Love, that she loved the script. However, once again, the project was demissed when it was learned that Julia was still waiting for a confirmation from the lips of Daniel Day-Lewis to be her leading man. Daniel received the offer in October, and turned it down within three days. Julia, in a last ditch effort, who was in London for costume and wig fittings, flew into Ireland in an effort to persuade Daniel to change his mind. Rumors of a "fling" ensued, whether true or not. Julia's effort was wasted, and she returned to Los Angeles, where production for Shakespear In Love shut down for another ten years before finally being made with Gwenyth Paltrow and Joseph Fiennes in the respective roles.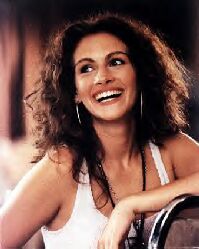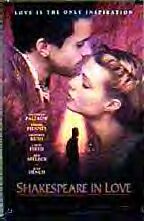 In the Spring of 1993, Daniel began filming, with Jim Sheridan the true story of Gerry Conlon, based on Conlon's book, Proved Innocent. It was the story of a teen, his friends and family being accused, tried, and convicted for an IRA bombing in London that killed several people. The British government, knowing they had nothing to do with the bombing, still proceded with the trial. Conlon, his father, Aunt, cousins and friends spent as long as fifteen years in prison before being freed when the deception was discovered. Conlon's father died in his twelfth year of inprisonment. Daniel wasn't looking to do another film, after finishing three in a row, but using Sheridan's home to take a much needed rest, Sheridan began telling him of his upcoming film. Daniel related much later how it came about, "Shay's not a bad storyteller at the best of times, so within a few minutes I remember thinking, "Please don't tell me anymore of this story", because I could feel the nagging compulsion begin to drag me closer to it." Day-Lewis' fans are most fortunate that he was "dragged" into the film, because it is one of Dan's finest performances, and he was deservedly nominated for Best Actor. Ironically, he was beaten out by Tom Hanks, for his leading role in "Philadelphia", the AIDS film that Dan had declined a year earlier.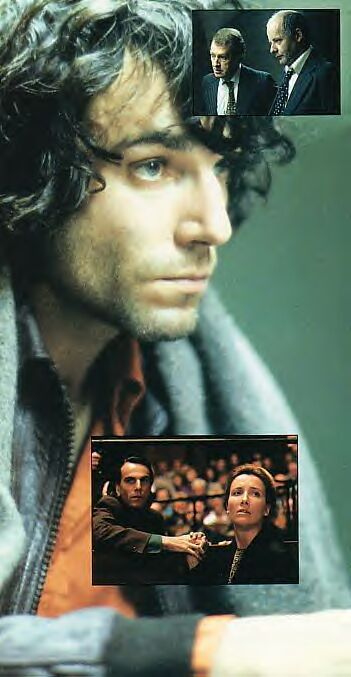 During the spring of 1992, while Daniel was doing preparation for ITNOTF, his father's complete poems were published for the first time. It was twenty years after Cecil's death. The "Observer" in London had asked Daniel to write an appreciation to coincide with the realease of the book, and Daniel agreed. In so doing, he gave us a glimpse of himself that he might have been unaware of. The article brought memories of Cecil, a man he remembered for his "bristly chin", and "tobaccoey tasting kisses". He admitted that his feelings for his father had grown steadiy, particularly as he had come to recognize more and more "the invisible writing", the inevitable inheritances of the "sack of genes I did not choose, though finally of which I am immensly proud". He shared, he wrote, "a melancholic inclination", "the ability to smile attentively while not listening to a word", and "an irrevocable sense of decay". "I still crave his wisdom and lyrical delicacy", he wrote. He also explained his father's part in his Hamlet, the constant conversations with him, and the words that were - that night - "particularly hard to bear".
During the filming of ITNOTF, Julia Robert's name once again came into connection with Daniel's. It was reported by the Daily Express, in Marc of 1993 that Roberts had spent a fortune on flights from Hollywood to Ireland, and that she "adored" Daniel. Inspite of the media frenzy over whether Julia and Daniel were a "couple", photograhphic evidence was never acquired. But, at the Wren's Nest in the Strawberry Beds pub, there is an entry on May 30, 1993, in the pubs diary, that attests to there having been some sort of a liason between the two. The entry reads "If you did not know them, you would have thought they were boyfriend and girlfriend. There was a lot of laughing and whispering going on." Just as quickly as the rumors had begun, they were abruptly dispelled when just under four weeks from this diary entry, Julia upped an married country singer Lyle Lovett. Patrons of the pub stated, "She did not look like she was about to get married that day." Where was Isabelle Adjani during these times? She was still in the picture. Hers and Daniel's relationship had always been tumultuous, and many seperartions took place over time. But, Isabelle always took the wandering Daniel back, when he was ready to return.
Also during the filming of ITNOTF, Daniel had real estate agents out looking at various properties in the western part of Ireland, that he remembered so fondly in his youth. Then he learned about a special piece of property in County Wicklow that was on the market. It was a five bedroom Georgian, called Castlekevin, and was nestled at the foot of the Wicklow Mountains. When Daniel viewed the property, he fell instantly in love with it, and made an offer that was accepted. He now had a home that he hoped to enjoy for the remainder of his days. Later he would purchase an additional 45 acres to ensure the privacy that he so craved.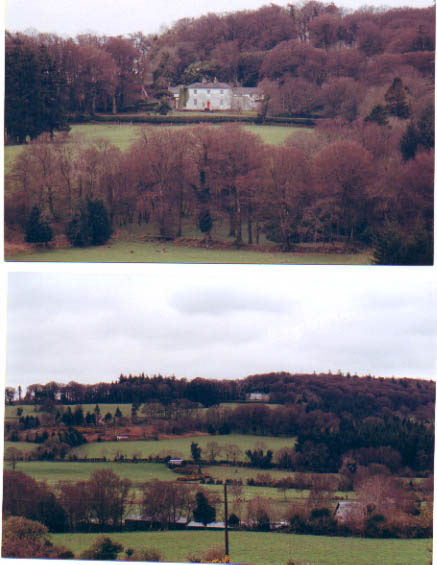 The pathway leading to Dan's house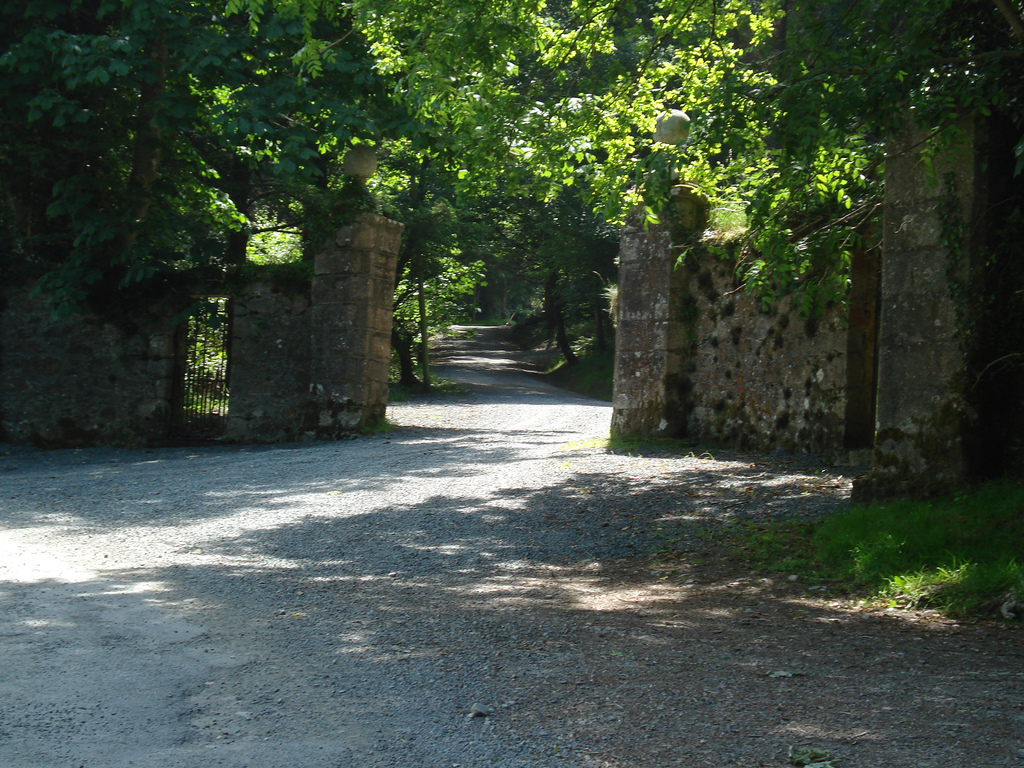 When In The Name Of The Father was released, film critics were generous in their praise. Not only did Daniel receive a nod at Oscar time for his fine protrayal, but also, Pete Postlewaite for his protrayal as Conlon's father, Guisepppe, for Best Supporting Actor, and for Emma Thompson, as Gareth Peirce.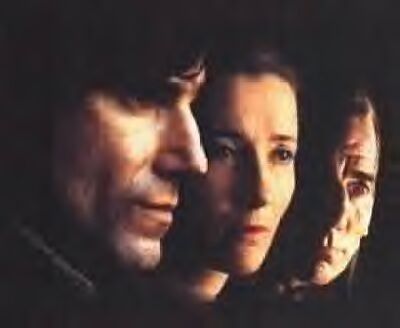 During the summer of 1993, with filming at an end, Daniel spent his time refurbishing Castlekevin. It was a labor of love, and one that he thoroughly threw himself into. He had not future plans for filming, and to the disappointment of his fans, it would be several years before finding him acting again. He was happy, and absorbed in the rennovations, and it came as a thorn to his side when he was called by Jim Sheridan to do a reshoot of the final scene for ITNOTF. This decision caused the first serious rift between director and actor. Turning back into Gerry Conlon's skin, was something he was not pleased to do. He later acknowleged that Sheridan had been completely justified in doing the reshoot, as the outcome would prove. Daniel then returned to his rennovations, and a life of leisure. Enjoying his romps on his beloved motorcycle, and daily runs among the woods of Wicklow. Then came the premiere for ITNOTF. Daniel came solo, but it was noted he didn't leave in the same way he arrived......it appeared that he and supermodel, Kate Moss disappeared from the premesis. The media was in a state of confusion, when only a few days later, Isabelle Adjani took up residence in Daniel's Castlekevin estate. However, early in 1994, it appeared that the couple had come to a final parting of the ways, when Adjani gave an interview to the Daily Express in London. She stated, "I am one of those people who, when they love, forget everything else. With Daniel, I never noticed that the time was passing by, I'm leaving a mirage. It was painful..but it was delicious." As usual, Daniel kept his feelings to himself, and made no public comment.
After an eight month seperation, Daniel and Isabelle got back together, for what would be their final time. Daniel had felt at this time in his life, that they might make a go of it, with possibilites of starting a family. But, this was not to be. Daniel's fragile state of mind may have played a part in what was to occur, but there will never be any explanations coming from the Day-Lewis camp, to ever come to any conclusions that might have been made. By the fall of 1994 Isabelle finally made public that Daniel was the father of the child, a boy, that she would have in the early spring of 1995. She stated that Daniel was none too happy with the pregnancy, but clearly stated that the story of Daniel breaking off the relationship by fax was a false one. Although she was gracious in making that known, Daniel's reputation in the media hit an all-time low. The fax story would forever haunt him with the media. And, he wouldn't stoop to trying to defend himself with what he considered a private matter. There are those who vilify his silence, while another faction laud his actions as being the proper course.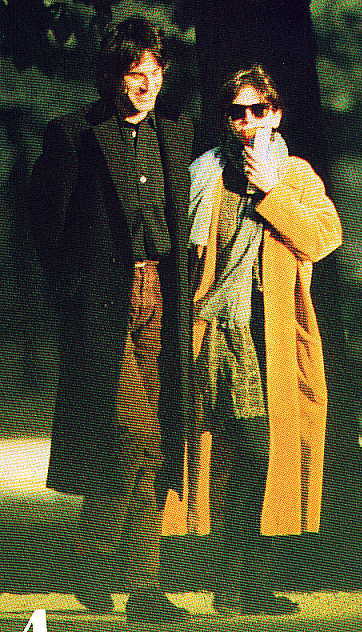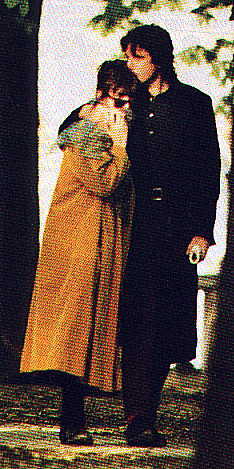 In Paris, a few months before the final break-up
Daniel had been enjoying his time off from movie work, and his time from media scrutiny. It was as though he had fallen off the face of the planet, there was so little news on the horizen about him. Every now and then a story would pop up that he was seen with one woman, or another, but mostly the stories were false. One such story was, he was dating Mia Farrow. They had been seen arriving together to a few events in Ireland. Daniel's friends scoffed at the speculation, stating that Farrow and Day-Lewis were just friends, and that Mia was visiting her old childhood home in Ireland.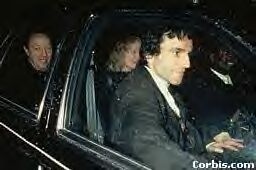 It was now 1995, and Daniel was in his second year of rest and relaxation. He had no films on the horizon, and found himself doing a little jet hopping between his home in Ireland, and working out in NYC. During this time, he again found his way back into a relationship of sorts with Julia Roberts, who was also in NYC, and divorced from Lyle Lovett. Daniel was photographed on a number of occasions, in his jogging apparel coming and going from Julia's apartment. It was no secret that they were seeing one another since the tabloids were having a field day trying to catch up with them. But, once again they avoided any photographic evidence of the relationship. A few months later, during the media frenzy of trying to catch Dan and Julia together, Isabelle Adjani arrived in NYC. For reasons only known to herself, she decided to have the baby in NYC, and more bad publicity found it's way on Daniel's doorstep. On April 14th, 1995, Isabelle gave birth to a boy, who was eventually named Gabriel Kane. Daniel, although coming to the hospital on the day Gabriel was born, was reviled in the news for his "playing with Julia Roberts", while the woman who was having his child did so alone. Everything was being drudged up once again. And again, he remained silent.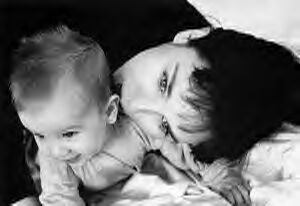 After the birth of Gabriel in April, media attention was becoming a form of pure torture for Daniel. He abhored doing publicity for his upcoming films, finding them difficult at best, but he would rather have done a hundred of them, than the pounding he was receiving over his "absentee fatherhood." Isabelle who came to the United States to make a film with Sharon Stone, entitled "Diabolique", had spoken to the press, making claims that Daniel didn't pay support, and didn't see his child very often. There has been some speculation that Isabelle doesn't make it easy to arrange visitation. Although I mention it here, I still feel that these are matters between two individuals, that shouldn't have been fodder for media attention. Hopefully, one day Daniel and Gabriel will have a good father and son relationship with one another, despite the absence of an earlier relationship.
As 1995 approached, it had been two years since Daniel had done any acting. Except for the number of articles involving his personal life, there was nothing to report. Which might have created the cycle of rehashing the break-up with Isabelle Adjani, and the birth of Gabriel. It might also have been a factor in his accepting the role of John Proctor in Arthur Miller's, "The Crucible." He had been offered the part on two previous occasions, but had turned it down. Now, with the need to return to work, and the inner feelings of persecution by an unrelenting press, he felt a personal kinship to the project. Director, Nicolas Hytner was thrilled that he was able to get his "first choice" for John Proctor with such little difficulty. Also in the film, would be an opportunity to work with the British icon, Paul Schofield, who Dan greatly admired. He would be costarring once again with Winona Ryder, who he had fond memories of from the Age Of Innocence. Joan Allen, would round out the remainder of the lead roles.

In July 1995, the unauthorized biography, The Fire Within, written by Garry Jenkins, is released. It gives little new information, as the author was forced to write his book mainly from old interviews, and talking with a few brave souls further down the Daniel food chain, so to speak. Daniel had made it very clear to his family and friends that they were not to co-operate with the author. Daniel's half-brother, Sean, however did become one family source. The book was not well received, but became a source of delight to the fans that had missed his onscreen presence.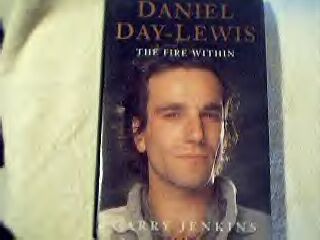 Filming for The Crucible was to begin in September of 1995, but Daniel, along with the set crew, arrived on Hog Island, in Massachusettes, to begin work on turning the island into a 17th Century Puritan village. This served two purposes for Daniel. His character, John Proctor, was a man of the land, and Daniel felt that helping to build the Proctor house would get him closer to his character. It also gave him a chance to work with his hands, doing carpentry, and old time love that he hadn't done for some time. Earlier in the year he had worked at the Equinox Gym in NYC, getting buffed up to play his next role. During this time he worked with fitness trainer, Deya Pichardo. Eventually, the relationship with Pichardo would become more than business, when she moved into his apartment. Early in 1996, Pichardo and Day-Lewis were photograhphed, holding hands, and kissing on the New York City streets. When Daniel vacated the property, he left Deya using his apartment until she could find a place of her own. This gesture would come back to haunt him in the not too distant future.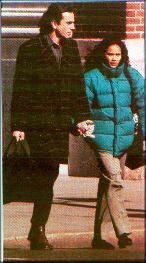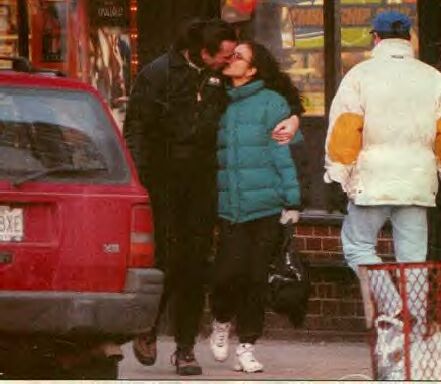 "Daniel Day-Lewis Marries", came the headlines. Fans around the world were shocked. There had been no inkling, not even the tiniest clue of an impending wedding. But of even more interest, was the bride....Rebecca Miller. Rebecca, was the 34-year daughter of renowned playwrite, Arthur Miller. There had been no press coverage of there having been a romance brewing between the two. When did they meet? When did they actually date? It seemed to be one of the best kept celebrity secrets. The obvious connection was the filming of "The Crucible." It's been said that the two met at Arthur Miller's Connecticut home, prior to the begining of filming. That lightening had seemed to strike between the two. Dan and Rebecca stated, somewhat reluntantly, that they met during a preliminary screening of the film. No matter how it came about, it was totally unexpected, and they bested the media at every turn. Here is the write-up from my local newspaper regarding the wedding:

November 20, 1996
Day-Lewis weds Miller's daughter
Strafford, Vt. (AP) - They had to wait until the
preschool class was done using
the Strafford United Church of Christ
But then, Oscar-winning actor
Daniel Day-Lewis, playwright Ar-
thur Miller's daughter Rebecca
and their small wedding party
had the place all to themselves.
The Rev. William Sloan Coffin,
a friend of the bride's father
since their days together as
Vietnam war protesters, officiat-
ed at the ceremony, which went
off at 1 p.m. Wednesday.
The wedding party was so
secret, that Lisa Freitag, a house
cleaner for the Coffins, kept the
secret from her husband, John
Freitag, a reporter for The Her-
ald, a country weekly in nearby
Randolph.
"It was a very well-kept se-
cret." said Nancy Gerlach of
Stafford, who lives next door to
the home where many wedding
guests stayed. "I had no idea
what was going on. I think it's
wonderful they were able to do it
that way."
Day-Lewis met Rebecca Miller
, an artist and film writer, when
he visited the playwright at his
home in Roxbury, Conn., in
preparation for the filming of
"The Crucible" several months
ago.
"Lightening seemed to strike
them rather rapidly," Coffin said
of the romance."
Miller and his wife, photogra-
pher Ingebor Morath, were
among the wedding party of 18,
along with Day-Lewis' mother,
the widow of the Irish poet Cecil
Day-Lewis, who may be better
known in the United States for
his mystery fiction under the
pseudonym Nicholas Blake.
The actor's sister, Tamasin
Day-Lewis, also attended, as did
the groom's longtime close
friend, the noted Irish bagpipe
player Ronan Browne, and his
agent, Victoria Belfrage of London.
Day-Lewis, 38, and Rebecca
Miller,34, arrived in Strafford on
Sunday, Nov. 10, to stay with
Coffin and make final arrange-
ments for the service to take place
on Nov. 13.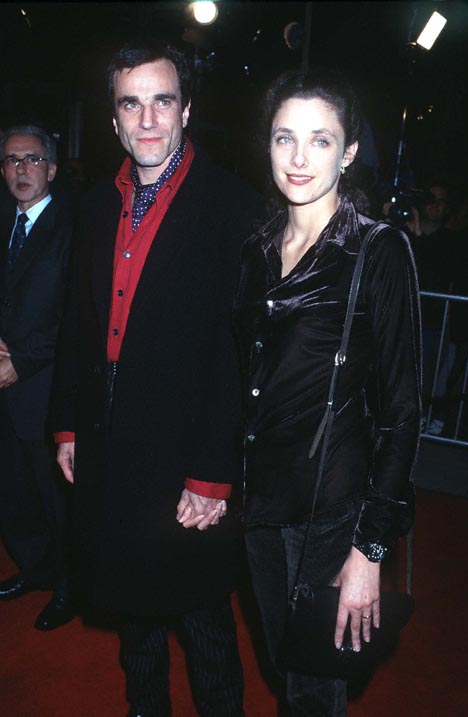 The new Mr. & Mrs. Daniel Day-Lewis
Only a few short days after the wedding took place, media headhunting came back to haunt Daniel, and now Rebecca, at what should have been their happiest honeymoon moments. The story goes, Isabelle Adjani, who had received a handwritten note from Daniel on the morning of the wedding, with the exclusion of the brides name, assumed it was Deya Pichardo, and called the New York apartment to wish the couple well. Supposedly on hearing the news, Deya was shocked to learn of the marriage, thinking that she was still Daniel's girlfriend. Tamasin, Daniel's sister, claims this is "hogwash", that her brother had broken off with Deya months before, and had been generous in letting her stay at the apartment until she could find digs of her own. Adjani and Pichardo had no kind words for their ex-lover. Once again, Daniel remained stoically quiet to let the storm abate on it's own.
December 1996 The Crucible is released to mixed reviews, and unwilling audiences. The picture fails miserably inspite of Oscar nominations for Joan Allen and Paul Schofield. It was a bitter disappointment to all involved.
I'm not certain when exactly Daniel and Rebecca finally took up residence in Ireland. One thing is certain though, pictures and articles of Daniel training in Belfast for his upcoming movie, The Boxer, were surfacing by March of 1997. Daniel was again teaming up with friend and director, James Sheridan, for another movie on the Irish Troubles. The movie had a sixteen week shooting schedule, and was costarring, Emily Watson, who had recently been lauded for her role in "Breaking The Waves."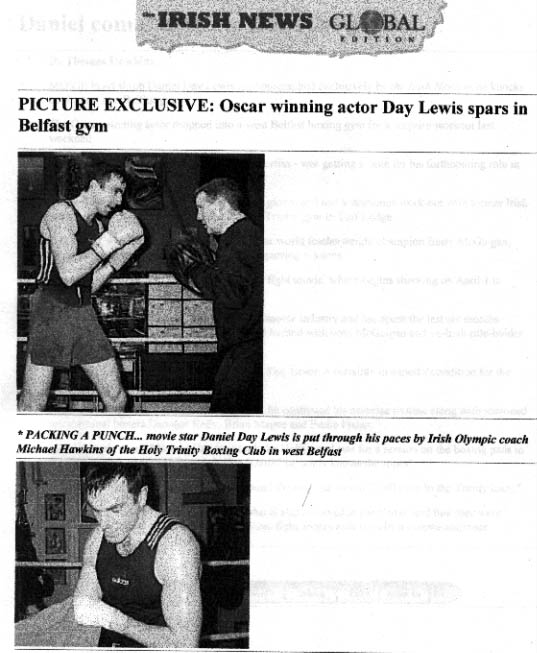 December 1997, The Boxer was released to good reviews, but again to unwilling audiences. Daniel and Jim Sheridan were at crossroads on the central focus point of the film. Daniel had wanted it to focus more on the boxing, while Sheridan wanted more of a love story. Compromises were made, and Sheridan won more points on the argument, but there was speculation if this might have hurt the outcome of the movie, or whether audiences just weren't prone to have much interest in the Irish Troubles. Both, actor and director have stated that their next projects will be far removed from the troubles of Ireland.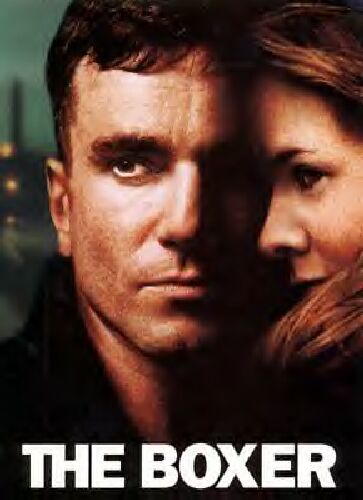 After the completion of The Boxer, Daniel's agent met with the media with the announcement that Daniel was "not interested in making movies." He further stated, that it didn't mean that Daniel would never again act in a picture, but at this point in time, he wasn't interested in reading scripts, and was in a sense, in the state of "semi-retirement." This was devastating news to Daniel's fans.
For the first half of 1998, Daniel managed to avoid the media, almost to the point where it seemed he had fallen off the face of the earth. Not that fans hadn't been through this kind of void before, but prior to his marriage there was always some little tidbit coming out the blue. Then on June 14, 1998 came the announcement that Daniel and Rebecca were the proud, new parents of a baby boy. The announcement came a few days after the birth, with no name released to expectant fans. Once again, Daniel had managed to keep his private life away from media attention. The fact that the couple was expecting their first child, had only surfaced as a rumor a little more than a month before the event took place.
It wasn't until May 1999, that finally pictures of Daniel, Rebecca and Ronan surfaced in tabloids, while they were vacationing in Florence, Italy.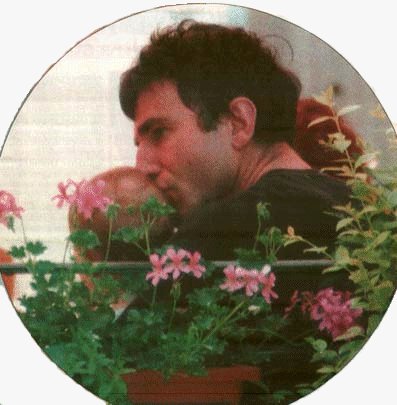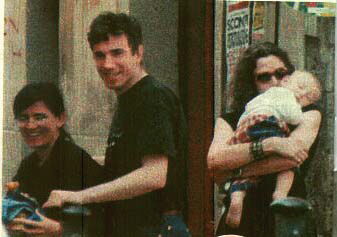 The oddest, and the funniest, news item on Daniel came out in June 1999, while the family was still vacationing in Florence. Daniel had bought some shoes at a small Italian shop, and found the process of the shoemaking itself of some interest. He asked the owner of the shop if he could try learning the steps of making shoes. He was a diligent student, taking to the endeavor in the way he took to preparation for a new movie role. But the story became so ludicrous, with claims that he was giving up acting to become a cobbler. A rumor that still surfaces today, in the same way that the fax story does. He was caught on camera during one of his eight hour days at the shop.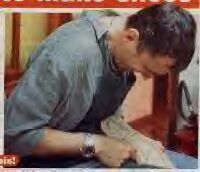 After this wonderful little windfall of seeing photographic evidence that Daniel and family were alive and well, they once again retreated to their home in County Wicklow. There was virtually no word on Daniel, with the exception of erroneous blurbs of possible new movie roles he had accepted.........none of them coming to fruition. Then by a stroke of luck while searching for Daniel news on the internet, I came across pictures of the 1975 Bedales Class Reunion, which was held in June 2000, to discover the presence of a rather scruffy looking Daniel Day-Lewis. But he looked heavenly to his fans who hadn't gotten a glimpse for an entire year!!!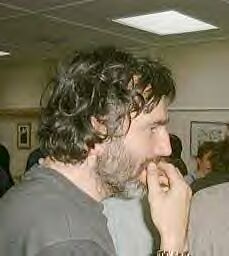 In March 2000 came the rumor that Daniel had signed on to do a small role in Martin Scorcese's upcoming film, Gangs Of New York. After three years of barren rumors, fans weren't prepared to believe this one either. Not until they could actually see it written from a reliable source that he had signed on the dotted line. Then in May, came reports from many media sources, that Daniel was in serious negotiations to play a pivotal role, instead of the brief cameo, after Robert DeNiro had to pull out from the project. After a few weeks of nailbiting, it was finally out that he had indeed joined the cast of what would be termed "GONY." It would be the first time in a decade where Daniel was not the "money" for the movie. It will be starring Leo DiCaprio and Cameron Diaz. Liam Neeson is now in the cameo role that Dan was originaly signed on to do. This new role is a complete departure to any role Dan has taken on in the past.........his first villian. Since the initial word of his involvement, there have been a number of sightings this past year, with the hope of more in the future. Filming began in September 2000 and finally concluded in June 2001. There is already early talk of Daniel being nominated for an Oscar, for his role as the evil "Bill The Butcher", who was a real gangster in NYC in the 1800's, working under Boss Tweed. The film is expected to open on Dec. 21, 2001, in time to qualify for Academy Award consideration. It will have been four years since anyone has seen Daniel on the big screen. It will be great to have him back.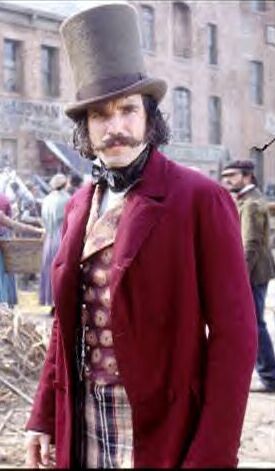 Click here for current news
HOME