note: - pictures will take some time to load in because of scanning at a higher definition for clearer pictures. They will be worth the wait, so please be patient
Oct. 2000 - Dan, Rebecca and Ronan (unknown canine)photographed during an outing in Rome, where they are living while Dan is working in Martin Scorcese's "Gangs Of New York." Please note how nice and trim Daniel has remained since his marriage......and Rebecca as well........some people just have great metabolisms.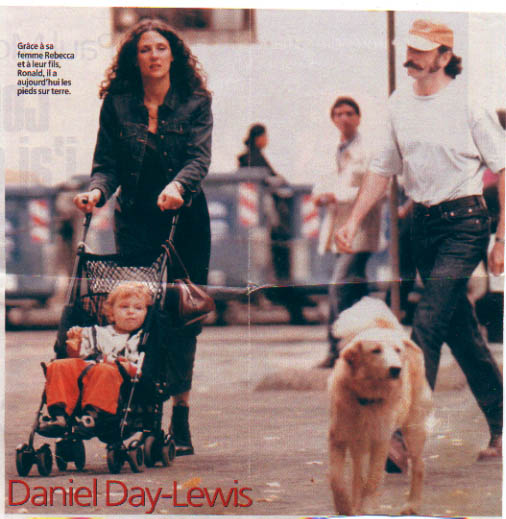 May 2001 - Dan pictured in Star Magazine, with unknown brunette, who is buxom enough to be me. Date of picture is in question, (see, if it had been me, I would know the date), but it was taken while still working on the GONY movie, which didn't finish filming until the following month.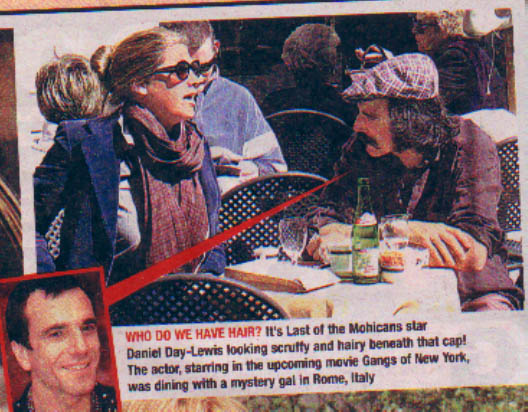 9/11/01 - America is attacked by terrorists. Two planes are flown into the World Trade Center in NYC. Another plane crashes into the Pentagon in Washington DC. Another hijacked plane crashes in a field in Pennsylvania. Over 6500 casualties. During these horrific events, Daniel and family are in NYC, closeby to the WTC. He and Rebecca line up with thousands of others to give blood. Because the ques are so long, they are turned away at this time. In an effort to help in some small way, and knowing that his son, Ronan, is safe, Daniel volunteers to carry styrofoam containers of ice to local hospitals in an effort to keep blood donations at usuable temperatures: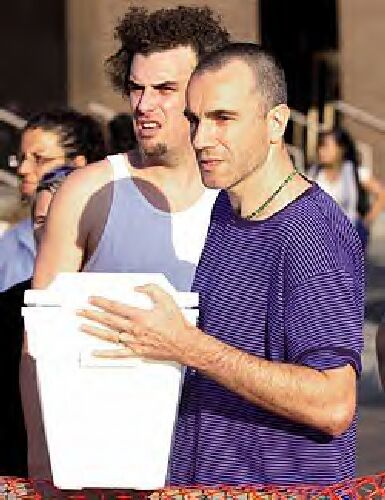 9/12/01 - Possible movie deal for DDL:
Monday September 03 08:12 PM EDT 'Man's Fate' in Shanghai next project for Cimino By Nick Vivarelli VENICE, Italy (The Hollywood Reporter) --- U.S. director Michael Cimino will return to the director's chair next year to shoot "Man's Fate," a drama set in Shanghai against the backdrop of the Chinese revolution, he announced here Monday. Based on French author Andre Malraux's 1933 novel "La condition humaine" (The Human Condition), "Man's Fate" will depict the deep emotional bonds that develop between several Europeans living in Shanghai during the tragic turmoil that characterized the onset of China's Communist regime, Cimino said. The roughly $25 million project is to be filmed wholly on location in Shanghai and will benefit from the support of China's government, which has said it will provide some $2 million worth of local labor costs, the film's producer, Mirko Ikonomoff, said. Ikonomoff is currently in advanced talks to pre-sell "Man's Fate" to several European groups, including Italy's RAI Cinema and France's TF1, and to a major Japanese company, he added. Ikonomoff, who heads Los Angeles-based film-financing outfit Victory International, said he is in negotiations with agents for Johnny Depp, Daniel Day-Lewis, John Malkovich, Uma Thurman and French actor Alain Delon as possible stars for the project. Shooting is tentatively set to begin in Shanghai in June. Cimino, whose "The Deer Hunter" (1978) won five Oscars (news - web sites) including best picture, subsequently directed the textbook-case flop "Heaven's Gate" in 1980. His latest film was 1996's "The Sunchaser." Cimino was in Venice to launch his novel "Big Jane," published by French house Gallimard, en route to Deauville and then to Paris, where he will receive the prestigious Chevalier des Arts prize from the French government.
October 9, 2001: Due to the devastation in NYC from the attack on 9/11, Martin Scorcese and Mirimax announce that "Gangs Of New York", will not be released Dec. 21, 2001, as planned. They feel with the violent theme of the film as the background of NYC in the 1800's, now would be an insensitive time to release the film. There is speculation that it might not be released until as late as May 2002, at the Canne Film Festival. Another rumor is for a release of one week on the original release date, so the film would qualify for Oscar nominations. Either way, after a four year wait, Daniel Day-Lewis fans will have to wait a bit longer for what Daniel now claims will be "his last role."
Thanks to a fan, Ladydi, at dd-l.net, there was this sighting from the New York Post of Dan and Rebecca walking the streets of Soho, in NYC on 10/26/01. Rebecca has been recently touring the US, and soon the UK, doing signings of her new book "Personal Velocity. They look extremely happy.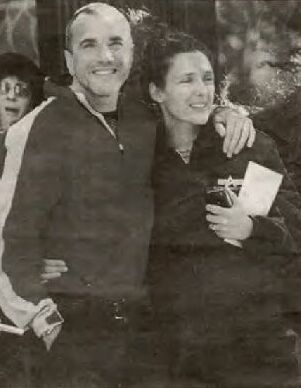 November 13, 2001: Today is Dan and Rebecca's 5th Wedding Anniversary. Viewing this picture, from OK! Magazine, taken on October 26th, they look to be as much in love as they did on the day they married. HAPPY ANNIVERSARY, DAN AND REBECCA!!!!!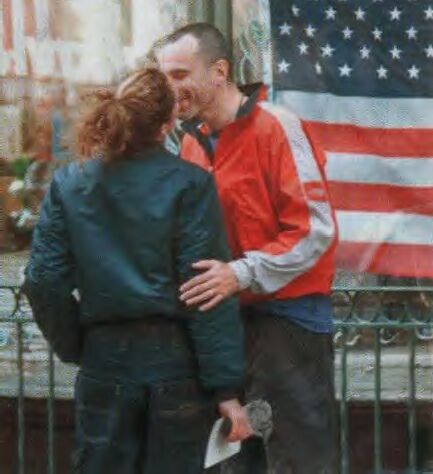 November 22, 2001: Dan's first "official" interview for the movie "Gangs Of New York", with accompanying picture, from Vogue's December issue. Fan's are hopeful that this will be just the begining of many more, since the release of the film is delayed until Spring of 2002. We may find a huge void between this interview and the next.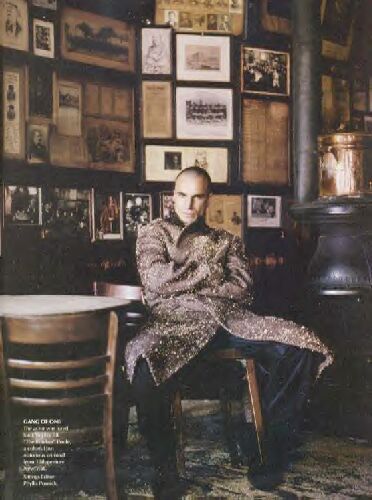 January 19, 2002: From an interview with "The Guardian UK", Rebecca Miller (Day-Lewis), reveals that she and Dan are expecting their second child in May. Congratulations to the Day-Lewis'.
March 7, 2002: Dan and Rebecca attend opening night of Arthur Miller's "The Crucible" on Broadway. The play is starring Liam Neeson, in a role once portrayed by Dan in the movie version. This is not a too flattering photo of Dan and Rebecca attending the opening.

April 29, 2002: Happy Birthday Daniel Day-Lewis. Dan turned 45 years old today.
May 3, 2002: Julie (aka JC) sent this picture of Dan that was snapped by a friend as Dan entered the Acme Bar & Grill in Soho, NYC. Her friend said he didn't mind posing when asked if she could take the picture. Thanks for sharing, Julie.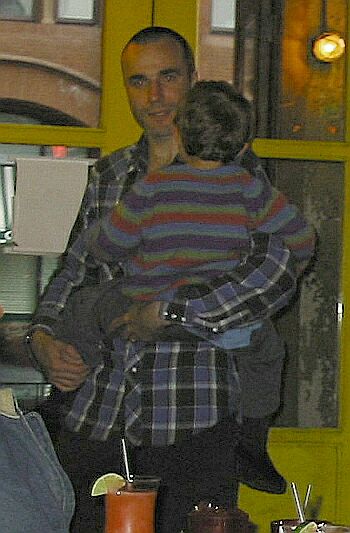 July 2002: Congratulations to Dan and Rebecca. News finally leaked out this month in several entertainment magazines of the arrival of their new son, born late in May. Not surprising that the name of the child has not been released, as it took six months or more to learn of Ronan's name four years ago. No "new" picture accompanied the tidbit. Dan was still sporting the shaved head, not his better look.
August 2002: Dan's second official interview for GONY comes out in Premiere Magazine with three new pictures. Still with little hair, and a slight beard stubble, but the pictures are GOOD!!!! In a few weeks I will type up the article and place it here on the Den. Enjoy the new pics!!!!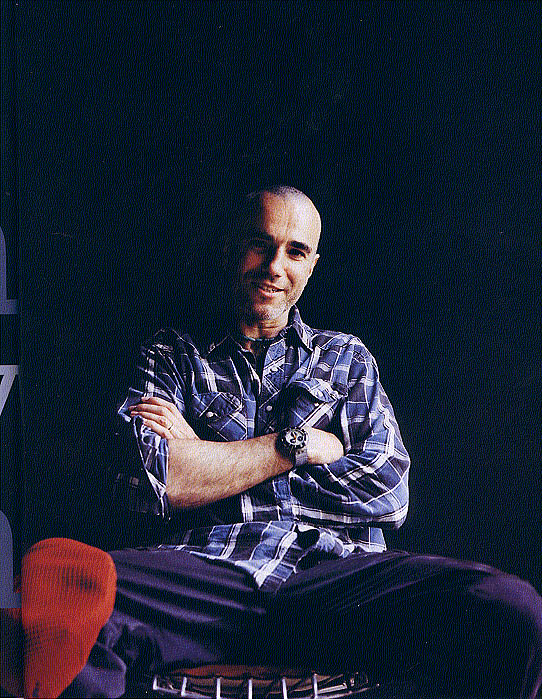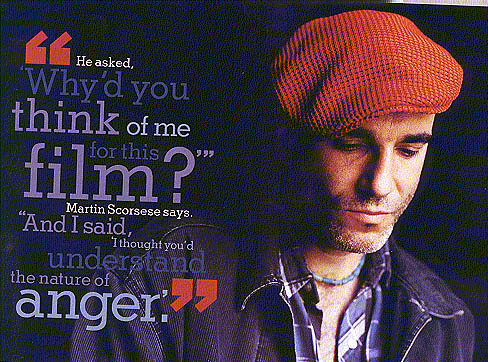 August 2002: The first week's August US Magazine issue of 2002, has the first sighting of Dan and Rebecca walking in the Soho area of NYC with their new baby, and 4 year old Ronan. No name for their second son has yet been released. Also, new pictures in the GONY Gallery of Dan can be seen from the August issue of Entertainment Weekly. Below - the Day-Lewis family: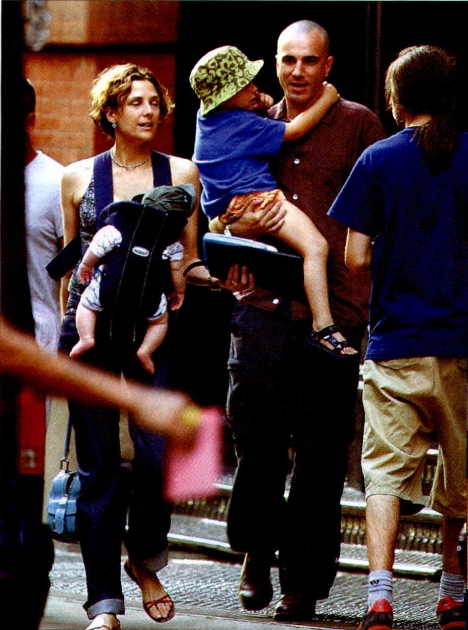 Nov. 2002: Beautiful picture taken by Brigitte Lacombe for Vogue Magazine. Not published until March 2003 at Oscar time.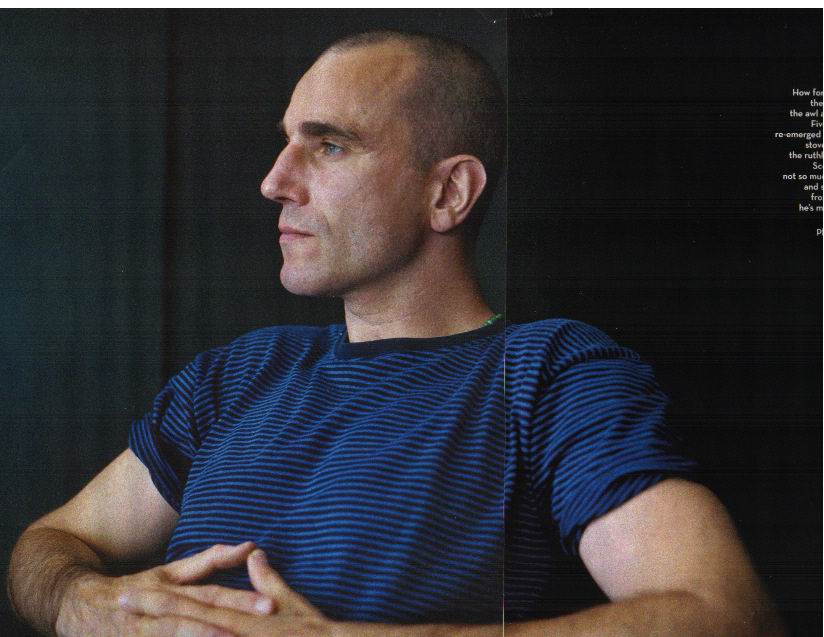 Dec. 9th 2002: Gangs Of New York premieres in New York City, for a nation wide release date of 12/20. Below is a picture of Dan and Rebecca at the premiere.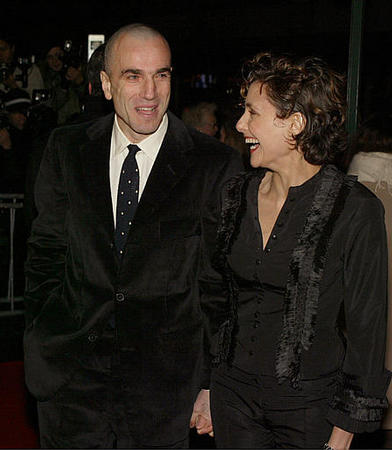 Dec. 17th 2002: Dan is caught having a cigarette outside at the Los Angeles premiere of Gangs Of New York. Dan had spoken of quitting the smokes a few years back, but this is evidence that he hasn't done it so far. I can empathisize, I know how difficult it is. It was also mentioned that Dan often rolls his own.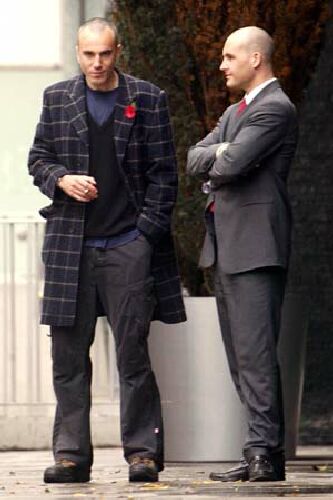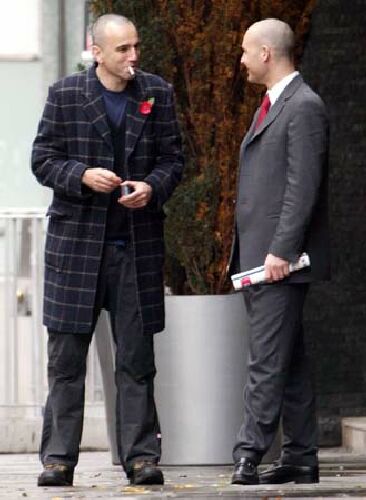 January 6th 2003: Paris premiere for Gangs is attended. Below is a picture of Dan, Marty and Leo.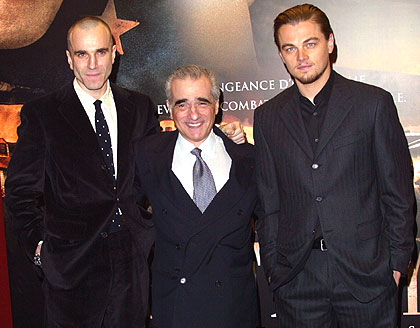 January 6th, 2003: The Day-Lewis family strolling through the streets of Paris the morning after the premiere. Little Cashel is now 8 months old, and Ronan five. It looks as though Rebecca is wearing Dan's checked coat.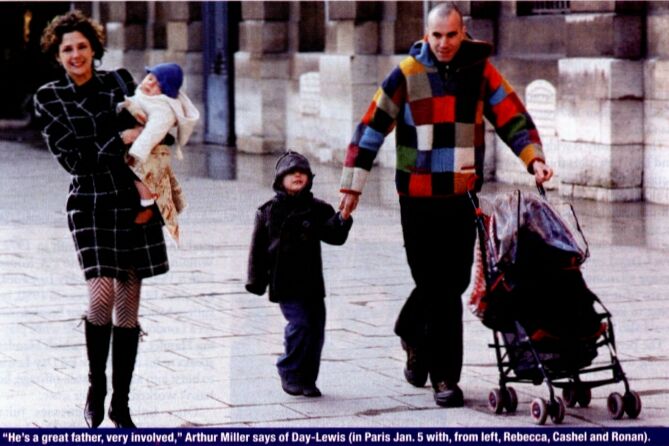 January 10, 2003: Dan walking with friends in Dublin. Dan is in Dublin for the premiere of GONY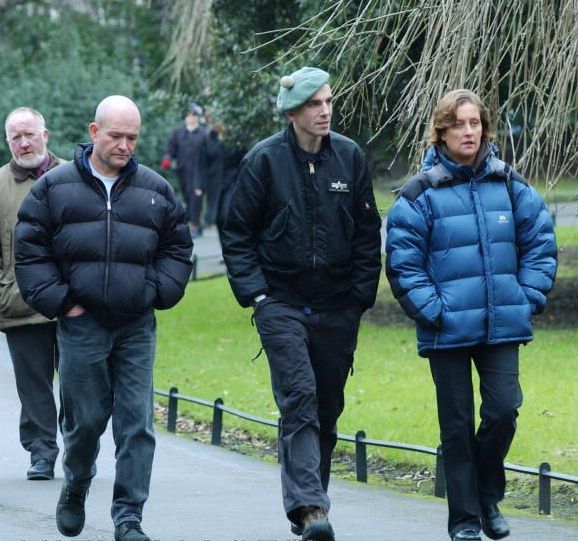 January 2003: Dan has been busy attending the premieres for Gangs, doing interviews on television and radio, and his fans are ecstatic at last. It's been a long time, and seems that it will be some time before we get to see Dan this often. After the Paris premiere on the 6th, Dan, Rebecca, Marty and Leo were off to attend the London premiere on the 7th, and the Dublin premiere on the 10th. I won't repeat the pictures of Dan and Rebecca, because they look almost identical to the NYC premiere. You know how Dan wears his clothes until they rot - his words exactly. But, here is a picture of Dan that was taken in Paris for his Newsweek article that came out on the 9th. He has been seen in this sweater quite often this month........what is the man thinking?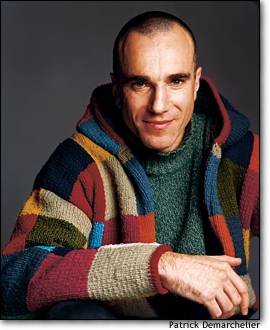 January 16, 2003: Dan finally makes it to US Magazine's Fashion Police in his technicolor sweater. He was asking for it.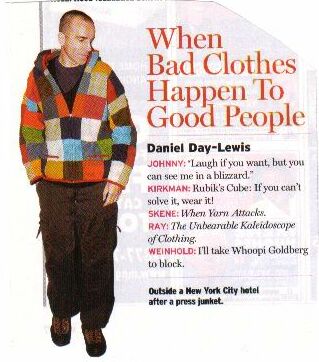 January 17, 2003: Dan ties with Jack Nicholson for BFCA award for Best Actor. Dan for GONY, Jack for "About Schmidt". Also liked this picture of a happy Dan with Nicole Kidman, and another with Marty Scorcese. Will post a number of pictures from various award presentations in the Gallery I page.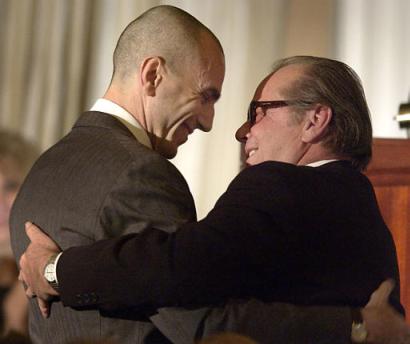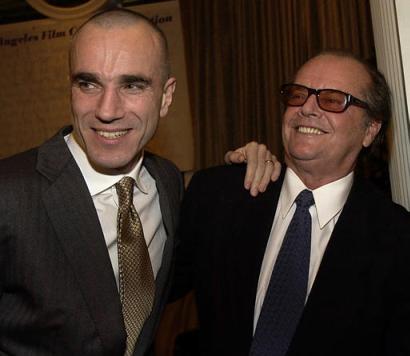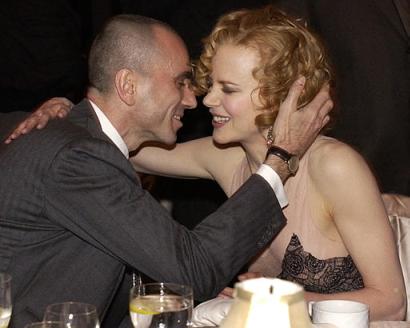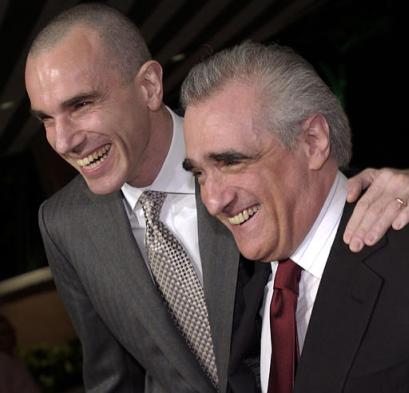 January 19th, 2003: Dan arrives at the Golden Globes where is has been nominated for Best Actor for a dramatic role. Sadly, he loses to Jack Nicholson, who's movie is more of a comedy than a drama.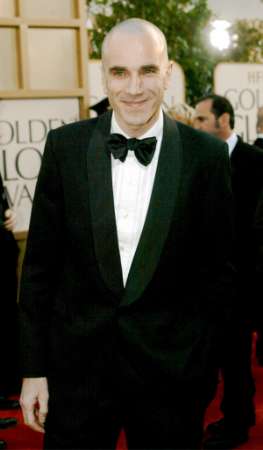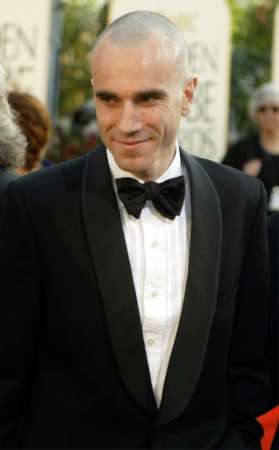 Februray 11, 2003: Academy Award nominations were released today. Daniel has gotten the nod for "Best Actor" for his performance in Gangs Of New York. In competition for the award are, Jack Nicolson, for "About Schmidt", Nicholas Cage, for "Adaptation", Adrian Brody, for "The Pianist", and Michael Caine for "The Quiet American". Now, it's wait till March for the awards.
February 23, 2003: Daniel won the BAFTA for his portrayal of Bill The Butcher, as he should have. Nice to be recognized by the country of his birth.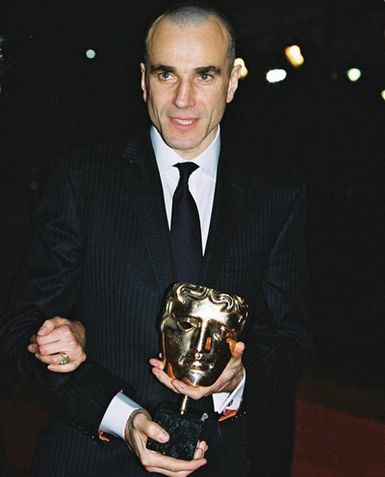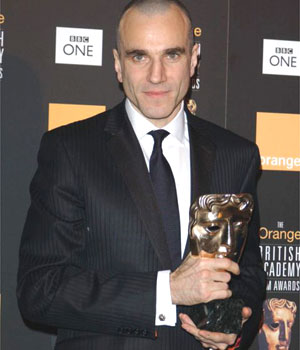 March 1, 2003: Dan seen here with Rene Zellwegger at the DGA's.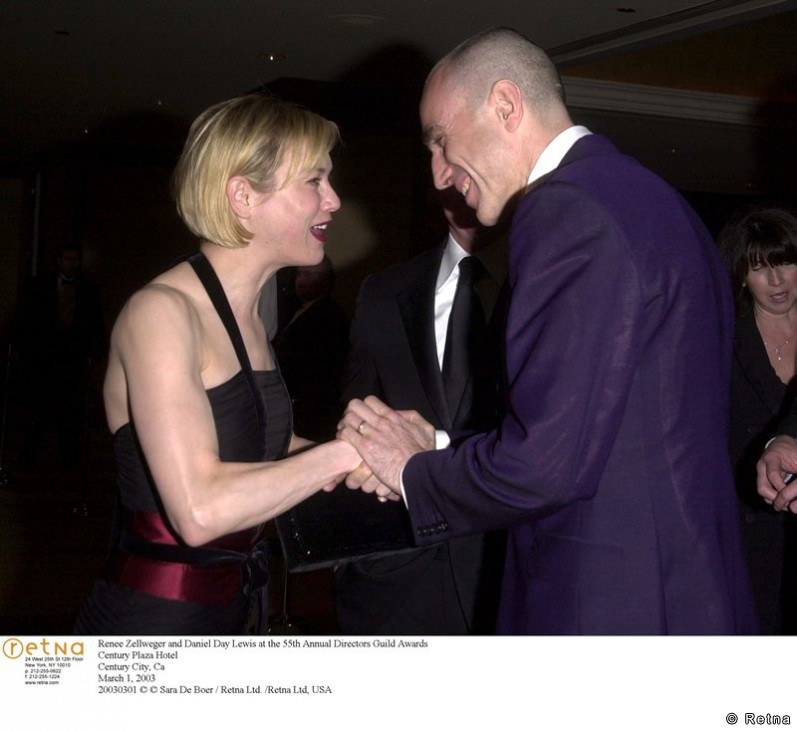 March 28, 2003: Picture of Dan with Oscar winner Adrien Brody at the Max Awards. Apparently throw away cameras were distributed to the celebrities at this Mirimax function, and Adrien took the opportunity to preserve a picture on film with his fellow Oscar nominee.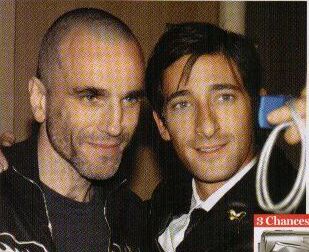 April 8, 2003: I went away for six weeks for family obligations, and was unable to keep this site up to date. Dan was the recipient of many wins for his performance as Bill The Butcher, but we fans faced bitter disappointment when he lost the Academy Award, (to another deserving actor), after it seemed he was the favorite going into award nite. The film failed to garnish one Academy Award from it's nine nominations. There was great news to follow though, Dan is making a movie with wife, Rebecca. Rebecca wrote the screenplay for "Rose And The Snake", and Daniel is to star in the film with Catherine Keener playing his love interest. Rebecca is to direct. Filming will begin in July in Novia Scotia. Below is a nice picture of Dan, with Marty, for one of the many awards he did recieve, this was the Critics Choice Award: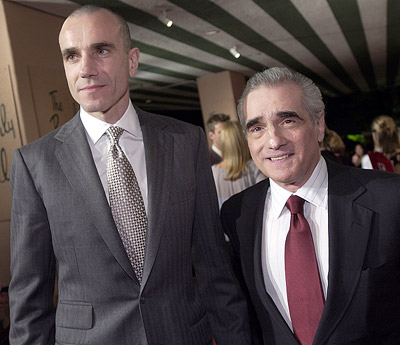 April 8, 2003: Found this picture in US Magazine, and found it amusing. Dan wearing his infamous sweater, and his old flame, Sinead O'Connor, wearing a very similar one. Get out your sunglasses: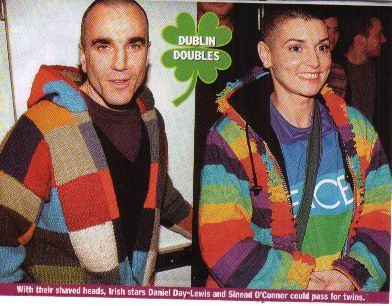 April 8, 2003: Dan presented at the Independent Spirit Awards, in March, with his co-star to be for the upcoming movie, Rose And The Snake, Catherine Keener. Again, where does he find his apparel? Is he trying to make his way back onto The Fashion Police?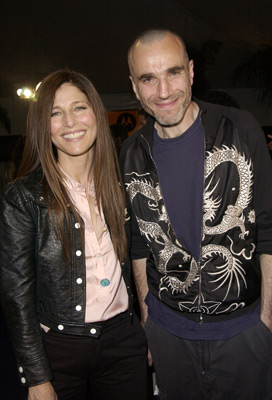 May 5-10, 2003: This picture was sent to dd-l.net, by a fan on Brandy's bulletin board. Dan looking quite buff in leathers took part in motorcycle races in Ireland. Most fans were more interested in the growth of hair on top of his handsome head.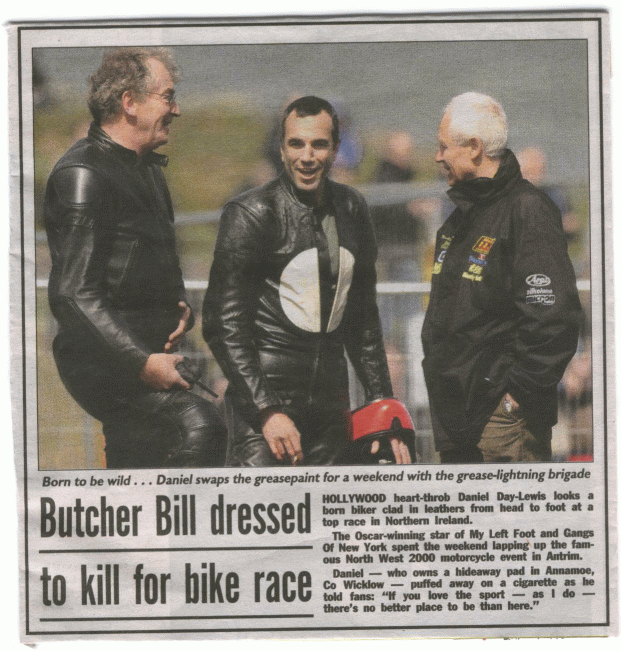 July 25, 2003: Filming of "Rose And The Snake" began this week on Prince Edward Island, in Nova Scotia. When, and if, there is anything new coming forth, pictures, news items, etc., I will post them as soon as they become known to me.
August 25, 2003: The first picture of Dan on the set of "Rose And The Snake", with Camilla Belle, who plays his daughter. There has been news regarding difficulty with "noisy", (not to be confused with nosey) locals disrupting filming. The production company, aptly named "Jack and Rose Productions" (after the main characters), won a lawsuit against a local farmer to keep things quiet for the seven week duration of filming. The picture here is a small one, but clothing looks to be a throwback to the 60's.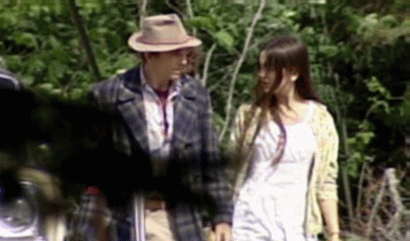 September 2003: Filming of "Rose And The Snake" concludes on Prince Edward Island. Still no word when the movie will actually premiere. Original word was to open at the Sundance Film Festival in January 2004. Rebecca is editing the film in Dublin. When an announcement is forthcoming, I will post it here.
October 30, 2003: Dan and Rebecca attend Jim Sheridan's premiere screening of "In America" in Dublin. Dan arrives, what is assumed, looking like his hippie commune character from RATS. An awful hat, plaid retro sport coat, wearing a belt very high waisted. A fashion victim once again.

January 15, 2004: The new year has arrived with nothing new on Dan's whereabouts. Haven't been able to find out a release date yet for "Rose And The Snake". It wasn't submitted to the Sundance Film Festival as originally thought. The only news item I have found, just a few nights ago, was a mention of Dan having lost 35 pounds for this production, in which he plays a dying man. When I find anything definite about the movie, or where Dan is hanging these days, I will update it here.
Current News - 2004
HOME